In June 2014, Google's robot drivers had driven 1.1 million kilometres and today they have driven around 16 million kilometres [1]. That is equivalent to driving around the earth's equator around 400 times or between Melbourne and Sydney every day for over 50 years!
In January 2015, we looked at some of the benefits that connected autonomous vehicles could bring to the road network and since that time there has been lots of discussion and development of autonomous vehicles. A couple of years ago, it looked like that despite the press and hype around new players like Waymo (Google), Tesla and Uber, the traditional car companies were leading the way.
In 2017, research undertaken by Navigant Research revealed that the companies that have been building cars for over 100 years were leading in terms of strategy and execution when it came to, well, building cars. The result is that Detroit was beating Silicon Valley in the race to get the first autonomous car onto the road.
A couple of years on however there have been a number of high-profile crashes with test vehicles with one recently resulting in Uber settling out of court [2] and a new partnership has emerged between Waymo and Jaquar (owned by Ford) [3].
Waymo agreed to purchase up to 20,000 Jaguar I-PACE vehicles which started driverless testing in late 2018 and will become part of Waymo's fleet from 2020. This means that if driverless testing that has commenced in Pheonix, Arizona goes well, driverless vehicles could be on the road for all from 2020. This means that massive changes to our cities are not on the horizon anymore, they are almost here!
Cars used to be celebrated to provide the freedom to travel anywhere but as cities grew and sprawled, people became trapped by their cars. People drive for mobility and fun, sometimes both. As driverless vehicles become more accepted, the freedoms of driving may become limited in order to make the wider traffic system work better.
Here is an example where wide-spread adoption of driverless technology could help.
Over the Easter break in 2017 where it seemed that half of the country was on the move, a crash on the M1 south of Campbelltown around 50km south-west of Sydney on Good Friday morning caused traffic chaos. Here is a Google traffic overlay of what was happening.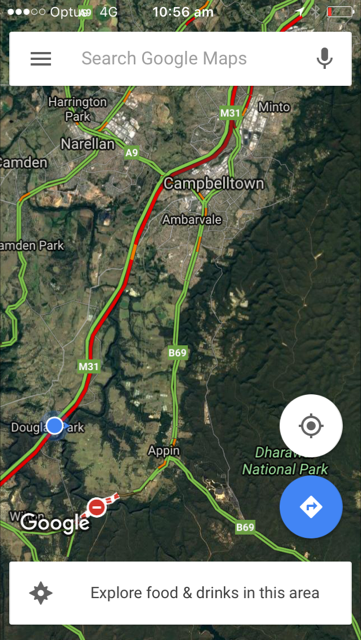 The red shows slow traffic and the dark red shows very slow traffic. The green shows traffic moving at the speed limit. Although there were no obstructions on the road south of where the crash had occurred, traffic was still travelling extremely slowly after clearing the crash scene. This was a real-life example where autonomous vehicles could have improved traffic flow and help people to reach their destination sooner, reduce frustration and help to make the roads safer.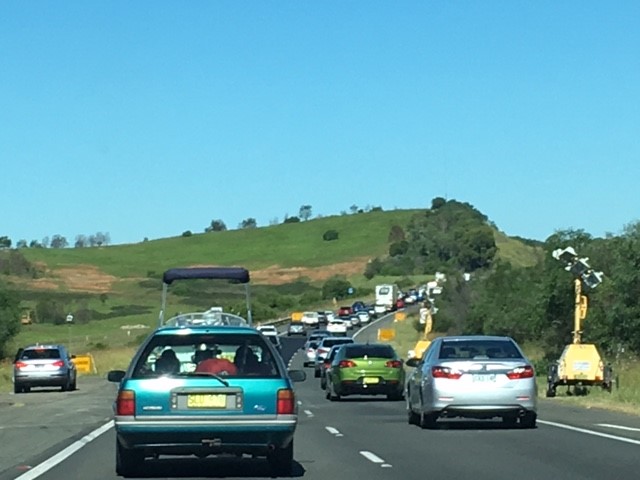 The speed limit was 100km/h but with such a high traffic volume at the time, vehicle speeds usually only reached 40km/h and occasionally got up to 60km/h before coming to a complete stop allowing you to see chewing gum on the road. Well after the crash had cleared, with space at a premium, traffic was backed up and bumper to bumper for around 30km after the crash, before cars could find enough space to travel at the speed limit.
While there was nothing stopping traffic south of where the crash had been cleared, vehicles changing lanes and drivers not concentrating, hitting their brakes too hard or being distracted by a police car on the other side of the road was causing shockwave traffic jams.
If all cars on the road were connected, information about the crash could have been relayed to all vehicles and a large number could have been diverted around the area. This would have helped reduce the impact on the section of freeway north of the crash site.
After passing the crash site, if all vehicles had adaptive cruise control, vehicles on the M1 would have been able to talk to each other about their speed and keep consistent distances which would have helped traffic clear the area sooner.
The introduction of autonomous vehicles is very promising for the potential safety benefits however the gradual implementation of autonomous vehicles will require drivers to give up control in order to realise the full benefits. While some people would happily like to sleep on their way to work or watch videos on the way to their destination, unless everyone has given up control then the whole system could break down and the phantom traffic jams that we see every day will continue.
The policy changes that are required for a connected future are going to force some difficult decisions. They could also affect the freedom that is driving which could include choosing your desired route, the time that you are allowed to travel, the speed that you can travel at and the lane you have to travel in.
Would you be willing to give up control for the greater good?
[2] https://arstechnica.com/tech-policy/2018/03/uber-settles-with-family-of-woman-killed-by-self-driving-car-avoids-lawsuit/
[3] https://media.jaguar.com/news/2018/03/waymo-and-jaguar-land-rover-announce-long-term-partnership-beginning-self-driving
All references last accessed 3/4/19