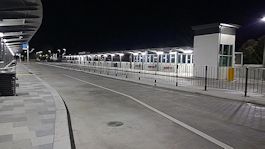 PeopleTrans understand that the principles of quality, useability, legibility and operational efficiency are things that all have to be in place in order for a transport interchange to operate effectively. Interchanges are becoming more important as the transport network densities increase and the requirement for interchanging between modes increases. As such it is important to ensure that any interchange is as seamless as possible.
We understand the complexity of movement between all modes at transport interchanges which is often underestimated or in some cases overlooked and have the planning tools and expertise to ensure the design of interchanges incorporates the needs of all users. We have successfully delivered interchange scoping studies and also have experience in concept design and traffic impact and access assessments related to interchanges.
Examples of our specific project areas include:
Scoping Studies
Concept Design
Surveys of Existing Use
Project Experience and News Items
The locations where PeopleTrans have worked on interchange projects across NSW is shown below which links to the full map.
Follow this link for more information on the work that PeopleTrans has completed on a number of interchange planning projects for Transport for NSW