In December 2013 Transport for NSW released the future bus strategy for Sydney which is part of a suite of Transport strategies targeting specific modes of Transport, all sitting beneath the overarching TfNSW Long Term Transport Masterplan.
PeopleTrans have a depth of bus planning & design expertise in this area and are particularly interested in the bus strategy having been heavily involved in the planning and design of the previous RMS Strategic Bus Corridor program and the London Bus Initiative program.
We are encouraged by the fact that a new bus program has emerged and that some of the good planning work undertaken as part of the Strategic Bus Corridor program has been carried forward into the Sydney Bus Futures program.
For those not familiar with this new document, in summary, it correctly advocates that buses are a fundamental part of the overall transport system on the basis that buses are very flexible i.e. they can be put into service quicker, cheaper and over a wider geographic area than any other form of public transport.
It is also underpinned by the fact that currently there are 600 bus routes on the existing bus network catering for 220 million bus trips per annum and that bus patronage has grown by 14% over the past 5 years and is forecast to grow by 30% by 2031.
So the Sydney Bus Futures plan, in summary is as follows:
A three tiered overall bus network consisting of Rapid (turn up & go), Suburban & Local Routes.
CBD bus network redesigned around the Light Rail system (CSELR).
Growth Centre Buses (Bus Head Start Program) – New routes implemented to support new homes as they are built.
PeopleTrans are supportive of the Sydney Bus Futures strategy, particularly as it constantly references reliability as a key factor in determining its success and that bus priority infrastructure will be required to achieve this.
We sincerely hope that there is a level of funding allocated to this program which is commensurate with what is required to deliver it.
In looking at the bus futures strategy more closely there is not a lot of discussion or reference at a strategic bus planning level that the proposed bus network structure for Sydney is the right one and able to adequately meet the demands of where people need to go to.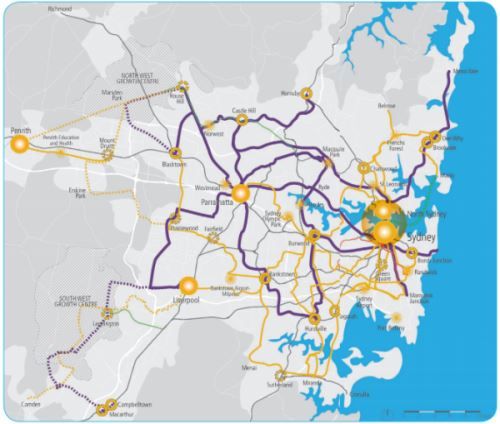 There is no reference to "through routing", for example, and the structure of the network still has many radial routes terminating in major centres like the Sydney CBD and Parramatta which to date has been the source of some of the key bus congestion issues that these centres face on a daily basis. This topic has been debated widely in bus planning circles but in Sydney we are yet to see a demonstration that bus contracts and bus operators can be flexible enough and work in partnership with one another to make through routing in Sydney a reality.
At a more detailed level, and there may be other instances of this, but we are surprised that a cross Sydney bus route like Mona Vale to Gordon has not made it into the plan given that there are committed funds to widen Mona Vale Road, a significant amount of evidence exists that a large proportion of Warringah residents travel west for their place of employment and that there is no rail service in Warringah.
We understand that no plan is ever perfect and look forward to assisting TfNSW in improving bus travel across Sydney and New South Wales. For more information about our bus planning expertise, please contact Alan Stewart in our Sydney office on 02 8226 8760.
For more information relating to the bus future strategy refer to: http://www.transport.nsw.gov.au/content/sydneys-bus-future
A link to the document can also be found here.