What do San Sebastián in Spain and Lindfield in Sydney, Australia have in common? Nothing really, but soon Lindfield will have a very pleasant and pedestrian friendly Village Green with similarities to one in San Sebastian.
Historically, a Village Green was an area for people to meet, talk and let their sheep graze. While more people own dogs than sheep in inner-city areas these days, for people living in apartments and houses, public open space and a place to meet others has never been more important.
Approximately 10 years ago, Ku-ring-gai Council recognised a lack of open space in Lindfield, and decided to investigate converting an existing Council owned car park into a modern-day Village Green. The project is part of Council's award winning Open Space Acquisition Program; the aim of the program is to deliver new local parks and public plazas in areas where residential densities and population are increasing.
After many years of investigating and talking about the project, it is now in its final stages of planning and is soon to lodge a Development Application or DA.
There are other examples of Village Greens in the Ku-ring-gai Council area including one at St. Ives, the Kendall Village Green in Pymble and the Kissing Point Village Green in South Turramurra but the Lindfield Village Green would be the first to be located above a public car park.
The Area
On the eastern side of Lindfield is a retail and commercial area that is centred around a large ground level car park that dominates the landscape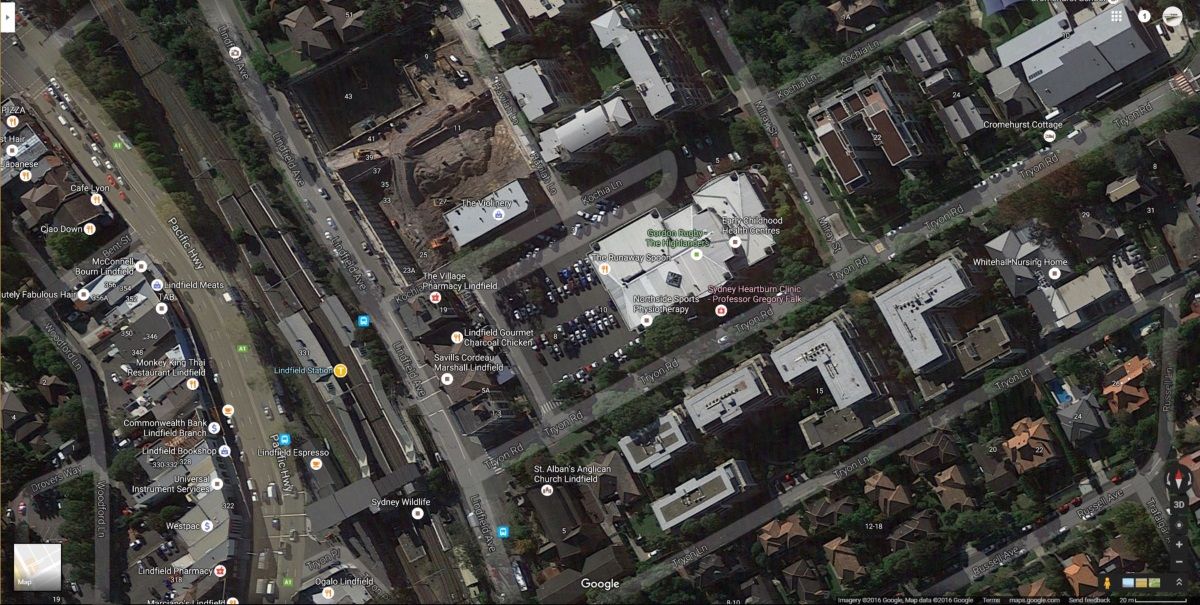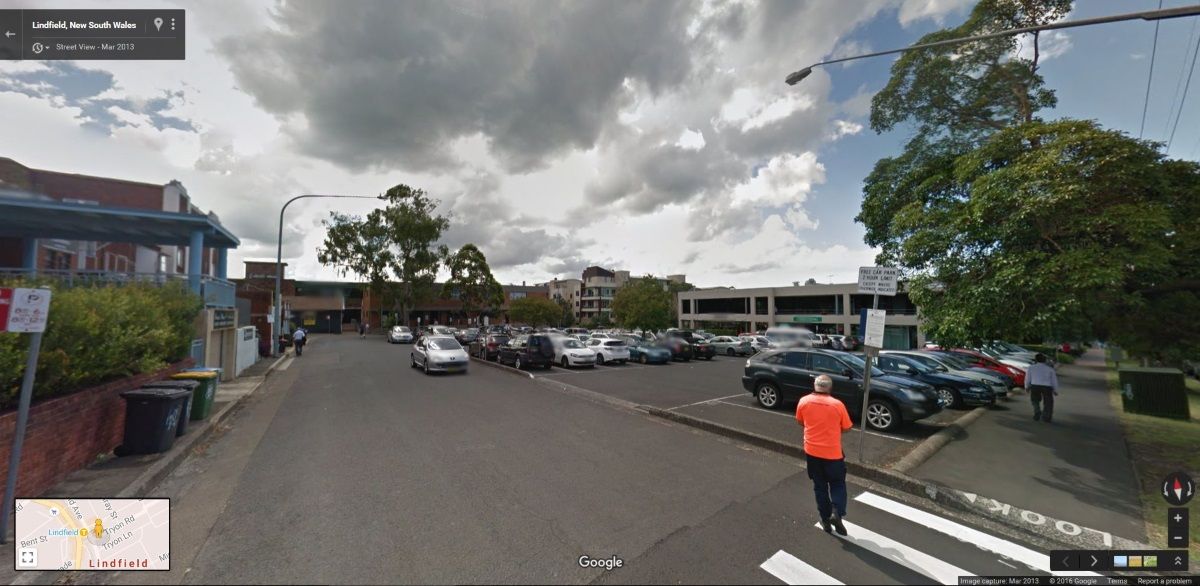 In the last few years there have been a lot of apartments built around the retail and commercial areas of Lindfield and you can see in the aerial photo that there are more apartments currently under construction north of the car park. The railway corridor from Hornsby to North Sydney via Gordon has been identified as a potential future urban renewal corridor [1] and this together with the State Government's employment and population targets will inevitably mean more development in the future.
The PeopleTrans team was first involved in the Village Green project in 2014 where we carried out pedestrian and bicycle counts and reviewed potential access options for undergrounding the existing at-grade car park and constructing a Village Green above for community use.
After progressing the idea, Ku-ring-gai Council put out design expressions of interest to the market and in 2015, 3 concept design options were received and formally assessed by Council. PeopleTrans was retained to assess each option independently for Council according to their positive and negative impacts on pedestrians, bicycles, public transport and access, general traffic accessibility and safety. PeopleTrans' preferred concept design was prepared by JMD Design and Tonkin Zulaikha Greer and this was the option that was ultimately selected by Council to progress to the next stage of design.
Following the initial selection process, the preferred design has now been improved to include:
reconfigured traffic flow to reduce vehicle pedestrian conflict
increased usable open space
inclusion of new drop off zones
provision for a larger cafe
additional seating in the park
relocation of gazebo structures
reconfiguration of planned parking arrangements [2]
The latest concept plan for the Lindfield Village Green is shown below.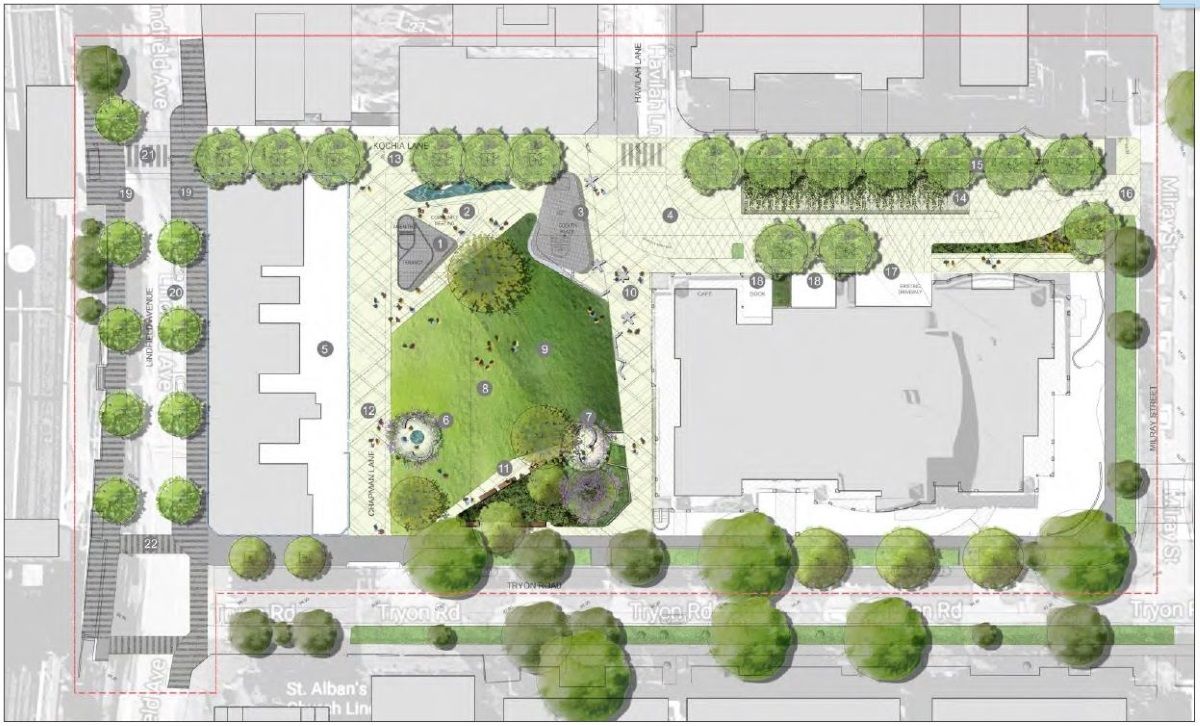 Image source: http://www.kmc.nsw.gov.au/files/5a845d64-813b-4a36-91a0-a68100f088f5/Lindfield_Village_Green_pre-design_services_report_8Sept16.pdf
The concept plan shows a large area of grass and trees which will provide a pleasant environment to enjoy on a warm sunny day and being flat, makes it easy to walk across the area in all directions. This is especially important for people with mobility difficulties. There is also a shared zone adjacent to the grassed area (Chapman Lane) which will provide priority to pedestrians but at the same time allow servicing of the shops fronting Lindfield Avenue.
The initial design included some innovative thinking related to natural air conditioning where hot air would be drawn in from above through a vent and pumped into and through the car park below. It is not clear whether this feature will make it into the final design for the site.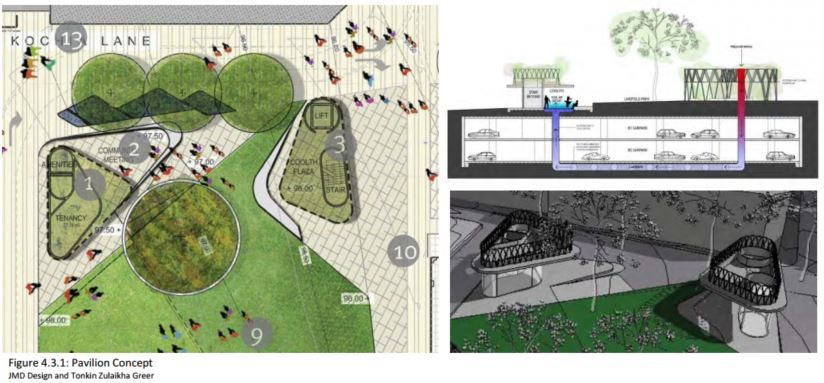 Image source: http://www.kmc.nsw.gov.au/files/5a845d64-813b-4a36-91a0-a68100f088f5/Lindfield_Village_Green_pre-design_services_report_8Sept16.pdf
Overseas Example - Plaza Cataluña in San Sebastián
An example of a very similar project can be found at Plaza Cataluña in San Sebastián, Spain which we visited earlier this year. The project, to replace the original plaza, was constructed during 2010 and 2011 and now that it is finished, the Plaza is centred around a grassed area and a children's playground at ground level above a basement car park with 940 car parking spaces. The project budget was €17,000,000. Trees are also at ground level and as they mature they will provide areas of shade for people.
Plaza Cataluña in San Sebastián, Spain, June 2016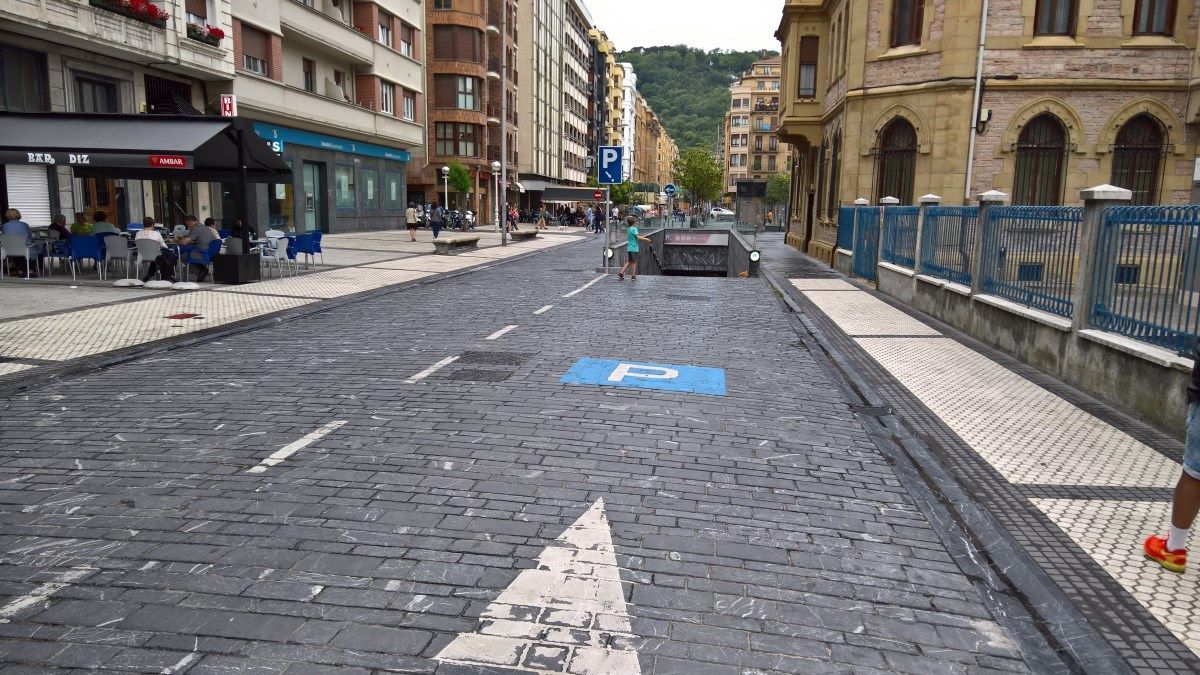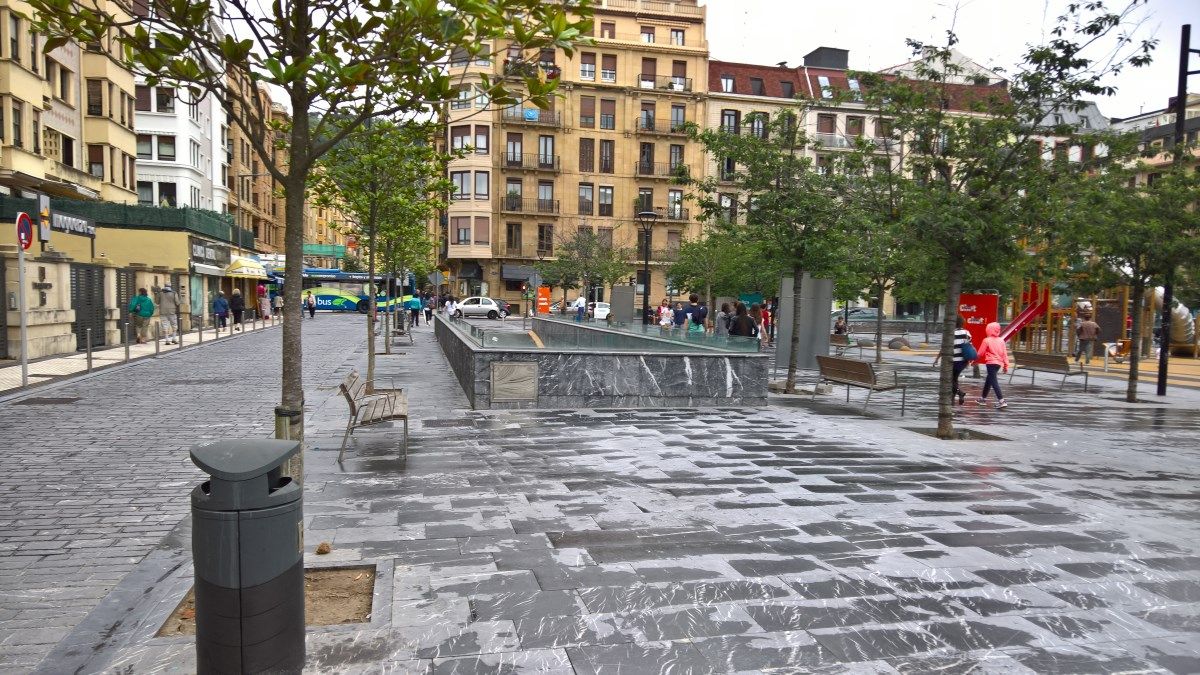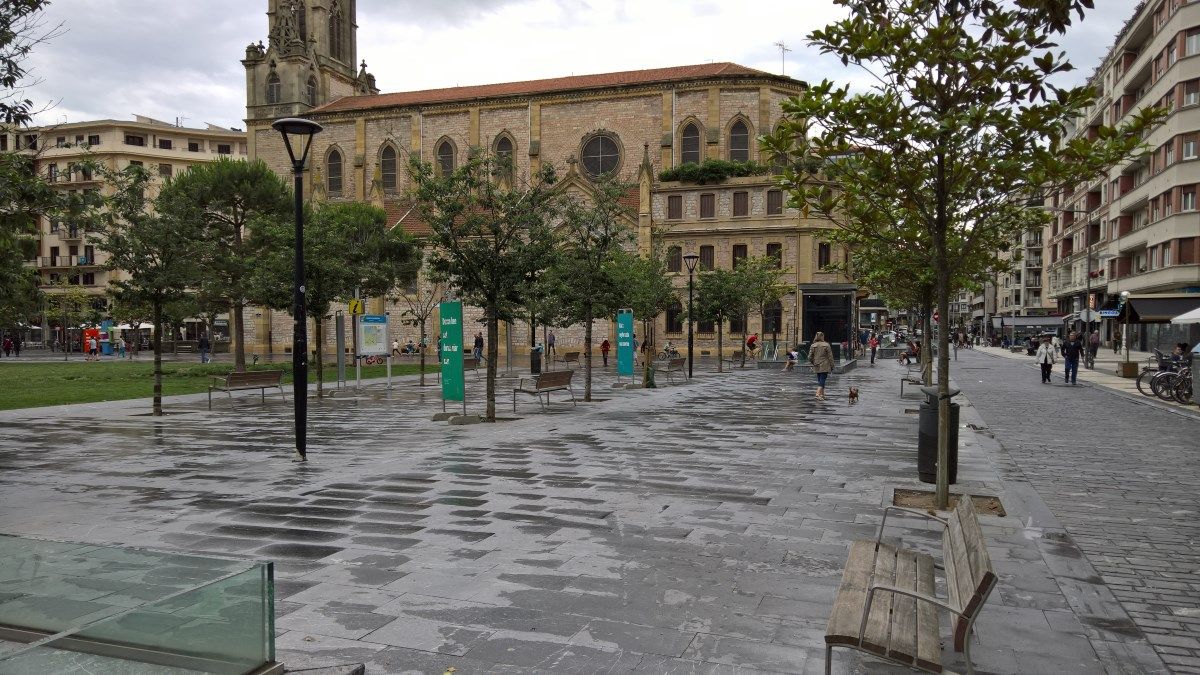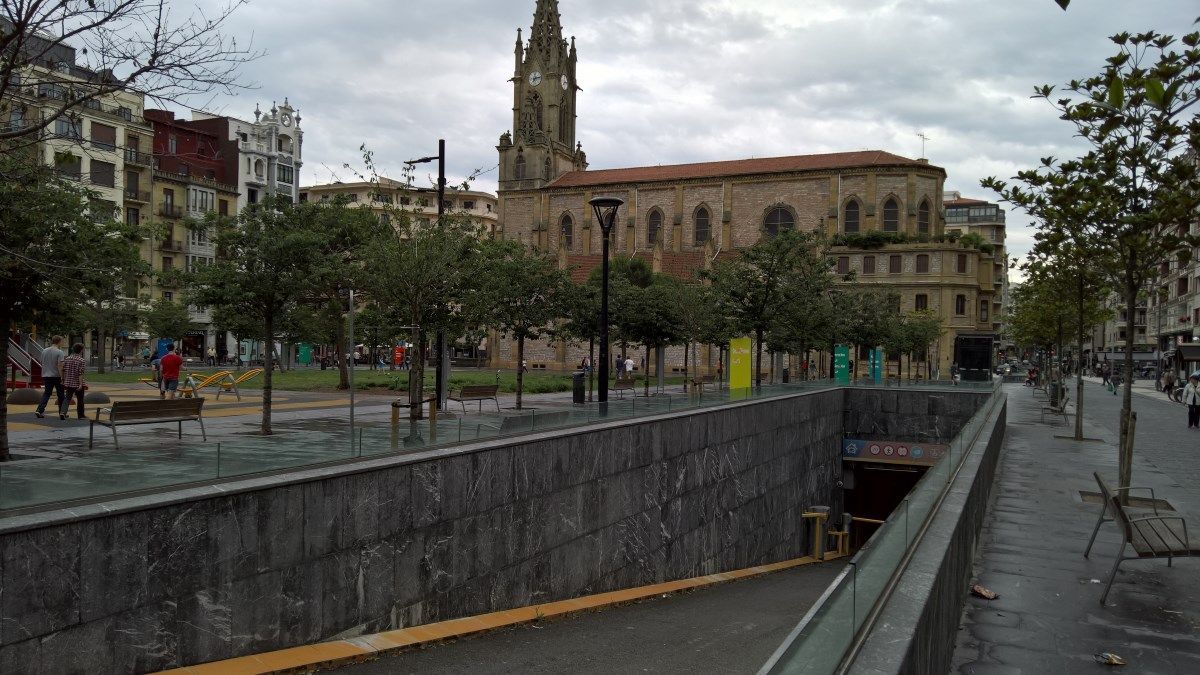 I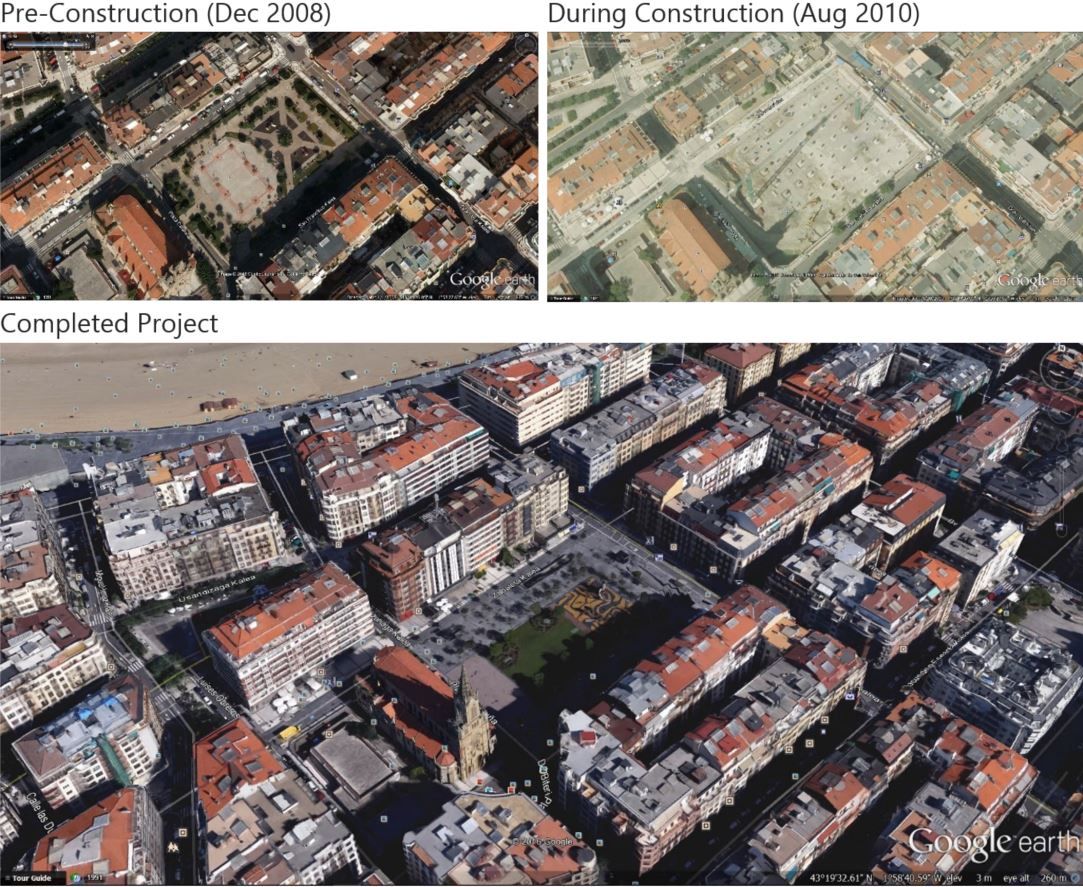 On both sides of the Plaza there are signs showing that the roads (Zabaleta Kalea and San Frantzisko Kalea) provide pedestrian priority and the only vehicles allowed to enter, other than parking vehicles, are delivery vehicles at certain hours of the day.
The project is an excellent example of traffic engineering and transport planning which prioritises the street network for people. In the pre construction photos, you can see a large amount of on-street parking which was removed and put underground. The different types of paving separate the areas of the Plaza and the completely flat design and narrow width of the shared streets encourage cars to drive slowly. Elements of this design have found their way into the plans for Chapman Lane and Kochia Lane in Lindfield which surround the proposed Village Green.
At 940 car parking spaces, the size of the car park is much bigger than what is planned for Lindfield at approximately 200 spaces. Having been to both Lindfield and San Sebastián, although the size of the car park in Spain is large and cars are entering and exiting the area constantly, as they travel at a low speed it doesn't seem to be as busy as it can sometimes get in Lindfield at peak times where the roads are wider, vehicles travel faster and people have less opportunities to cross the street. This is also the case when it comes to 'rat-running' through local areas.
Often it is the vehicle speed and driver behaviour that causes issues and not the volume of vehicles. This is where quality urban design combined with traffic engineering expertise is so important for the operation public area like these.
Where to Next for Lindfield
Ku-ring-gai Council also propose a large renewal project on the western side of the railway line and Council are currently progressing the design of the Lindfield Community Hub which will also include public open space. If all the plans are completed over the next few years, it will be an exciting time to live in Lindfield.
Although increased density can sometimes be met with resistance by a local community, if it allows the creation of more open space and is executed well, then it would, in our view, have a positive impact on the Lindfield town centre and its community.
The reduction in traffic and conflict between pedestrians and vehicles in the latest concept plan should result in a calm open space and a pleasant environment that will benefit the community for many years to come.
If you know of other well designed examples of Village Greens within inner-city areas please let us know.
References:
[1] Plan for Growing Sydney, December 2014 © Crown Copyright 2014 NSW Government, P72
[2] http://www.kmc.nsw.gov.au/Current_projects_priorities/Key_priorities/Activate_Ku-ring-gai/Activate_Lindfield/Lindfield_Village_Green
All references last accessed 5/12/16
Author: Matthew Houlden